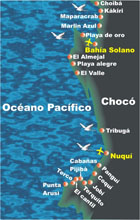 Colombia's Choco region is one of the rainiest in South America, and stretches from Panama in the north to Valle de Cauca in the South. The scenery of pristine rainforest descending into beautiful greay sand beaches is spectacular. Choco's Pacific coastline is dotted with small fishing villages whose inhabitants are African in origin and have their own distinct culture, though there are a few indigenous groups present as well. The best time to visit the Pacific coast is from June to September, when whale watching (humpback whales and killer whales) is possible (N.B. You might also see whales in May or October). Whales can be spotted all along the pacific coast at this time - often they come so close to shore that they can easily be viewed from the beaches. There are also various inland Indian river communities that can be visited.
Choco and Colombia's Pacific coast is an undeveloped region, and local safety conditions should be checked before visiting.
There are very few roads along Colombia's Pacific coast - the only real road to the coast connects Buenaventura (not a pleasant city) with Cali. Generally speaking, to visit you'll need to travel by either boat or small plane.
Of most interest to travellers in Colombia will be Gorgona Island, an old prison island good for whale watching, plus the small beach resorts of Nuqui (great surfing and lovely long beaches) and Bahia Solano (world class deep sea fishing).
Buenaventura
Get in and out of this unattractive large port city as fast as possible. Head straight for the Muelle Turistico (Tourist Wharf) from where boats depart onwards - this part of town is reasonably safe, most of the rest is not safe though.
Juanchaco & Ladrilleros
An hours boat ride North of Buenaventura, this area is good for surfing. Ladrilleros is also a popular weekend beach getaway destination (mainly popular with people from Cali). There's a dozen simple hotels in Ladrilleros - try Reserva Aguamarina or Hotel Palma Real. There's various boats every day from Buenaventura to Juanchaco (1 hour, about 50,000 pesos return) - Ladrilleros is a couple of kilometres further on by road. Not far from Ladrilleros is is the extremely biodiverse Bahia Malaga National Park (also known as Uramba National Park), which supposedly has the greatest plant diversity of anywhere on the planet.
---