There is a lot of genuinely useful Colombia flights information on this page - you might find it to be "information overload", but if you take it all in you'll find the cheapest flights both to and within Colombia. Domestic airline route maps follow. Bare in mind that inbound international flights to Colombia in December are very expensive - book 11 months in advance if possible.
Flight route maps are current as of July 2009.
Flights from USA to Colombia
Invariably the best value fares are found online, with sites such as Travelocity, Orbitz or Expedia. You can compare prices from various sources above.
Spirit Airlines has flights to Bogota, Medellin, Cartagena and Armenia - from Fort Lauderdale.
American Airlines has flights from Miami to Bogota, Medellin and Cali.
Delta Airlines has flights to Bogota from both New York and Atlanta.
Continental Airlines flies between Bogota and Houston.
Colombian airline Avianca has flights from Bogota, Medellin, Cali and Barranquilla to Miami, Fort Lauderdale, New York and Atlanta.
Air Canada flies to Bogota from Toronto.
Flights from Europe to Colombia
There's a range of flight options from Europe in addition. Direct flights from Europe to Colombia are offered by Air France (via Paris), Iberia (via Madrid), Air Comet (from Madrid - I think they've gone bust now) and Avianca (via Barcelona and Madrid). Avianca also have direct flights from Madrid to Cali, and also from Madrid to Medellin (from July 2010). Iberia is often good value, but Air Comet is normally the cheapest (though they are a very budget airline). Lufthansa have also started a service from Frankfurt to Bogota (in 2010). There are also a range of European airlines offering flights to Colombia via Caracas. With both Lufthansa (via Frankfurt) and Alitalia (via Milan or Rome), you can catch connecting flights in Caracas on to Bogota. An alternative (often the cheapest) would be to book a flight to Caracas, and buy a separate flight onwards to Colombia (eg. the evening Aeropostal flight from Caracas to Medellin, booked cheapest as a Hahn Airpass).
Take note that Avianca fly to Spain (Madrid and Barcelona) - and you can connect to a variety of other places including UK with them - however these tickets never appear on their website, they almost never appear on flight booking websites and when you call Avianca they sem to invent ludicrously priced flight prices. The only real way to book this Avianca option to Europe is to call a flights specialist and do it over the phone - I find that maybe 30% of the time this is the cheapest way to fly fromn london to Colombia. Try calling Journey Latin America who I used to work for.
Colombia Domestic Flights
Recently (as of July 2009), the airline Aires has been offering special promotions every now and then - these normally last for 24 hours, and when they are on offer, other Colombian airlines often copy them and offer equally discounted tickets - often at about 25% the normal price. Sign up to receive special offers on the Aires website (see later), and if a special offer appears with them on one day, check the other airlines to see if they are price matching, and book your preferred flight fast - the same day, before the prices return to normal.
Colombia has a range of domestic airlines, and unlike the rest of South America, they're often excellent value. Internal flights within Colombia are offered by Avianca, Aerorepublica, EasyFly, Satena and Aires - route maps and tips for each follow (click the images to enlarge). Avianca and Aerorepublica also offer international flights. Remember that all these Colombian airlines have English speaking staff if you do need to call. It's also possible to book Avianca and Aerorepublica flights on major travel websites such as Expedia, Travelocity and Lastminute.com. In the past, paying with a credit card not issued in Colombia proved very problematical - thankfully all the airlines seem to accept international credit cards now.
Avianca
Website: www.avianca.com (English language available)
Payment Options: you can usually pay online with a foreign credit card.
Avianca is the principal airline and has the widest network of flights within Colombia. Avianca offers an Avianca Airpass for those who have an international flight ticket to Colombia - there is a minimum of three flights that must be taken, and prices are often much less than standard tickets. Avianca also offer an airpass that covers Latin America & the Caribbean. For an extensive explanation about these airpass, see the article I have written about Avianca airpasses (different website).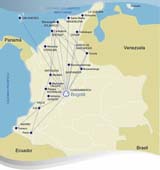 Avianca route map.
Aerorepublica
Website: www.aerorepublica.com (English language is now available)
Payment Options: You can now pay online with a foreign credit card without difficulty - either online or by calling the airline.
Aerorepublic, affiliated with Continental Airlines and their OnePass frequent flyer programme, also has a range of domestic flights within Colombia. At times, Aerorepublica offers packages whereby hotels and flights can be booked together. They are also an excellent airline with whom you can use your onepass miles - I mean REALLY good value. Check Aerorepublic's website to see if any special offers are available.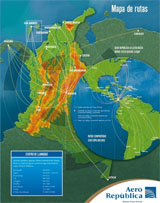 Aerorepublic Route Map - click to enlarge
Satena
Website: www.satena.com (only in Spanish language again)
Payment Options: As of July 2010 Satena have a proper website with schedules and the ability to book and pay online with an international credit card. Finally!
Satena is another of Colombia's domestic airlines - this airline is government owned. You're most likely to use Satena for flights from San Andres to Providencia Island.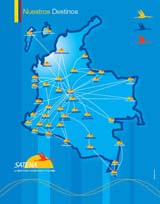 Satena Route Map
Aires Flights
Website: www.aires.aero (Spanish language only)
Payment Options: You can usually pay online with credit cards, including foreign credit cards, with Aires.
Aires also offers internal flights within Colombia. They're routings are more limited, but they are often the best value, and there are often special promotional offers on flights (usually these promotions last about 72 hours, so book fast if you see one). Important to note the flights to the Caribbean islands of Curacao & Aruba, plus Panama City. Aires also fly from Bogota to San Andres Island and also to Fort Lauderdale (USA), those these routes are not marked on the route map below.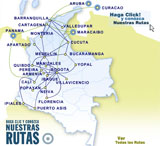 Aires Route Map
EasyFly Flights
Website: www.easyfly.com.co (only in Spanish)
EasyFly is one of the newest of the Colombian airlines - it's a low cost carrier, and routes were launched in 2008. Flights with EasyFly, which is apparently modelled on UK's EasyJet, are dirt cheap. Needless to say that Colombians are absolutely delighted.
Colombia's other Domestic Airlines
The five previously mentioned airlines are Colombia's principal domestic carriers.There's also other smaller regional airlines that might occasionally be of use to those visiting Colombia. Ada Airlines (or Aerolineas de Antioquia) offers flights from Medellin to a range of destinations - see www.ada-aero.com for a route map. AeroSucre and Lineas Aereas Suramericanas (LAS) are both cargo airlines, though you can sometimes pick up a cheap flight from Bogota to Leticia (or even to other Latin American countries) with either if they have space. In 2006 Aerosucre had it's first plane crash. Another Colombian domestic airline is Searca, which is a charter airline.
Airpasses & Flights from Other places in Latin America to Colombia
See also the section on travel overland between Panama and Colombia.
Those travelling from Europe, Africa, Asia and Australasia to Latin America are entitled to an airpass known as the "All America Airpass" (also known as the Hahn Airpass) for flights within and between countries in North and South America. Flight prices are almost always much less compared with buying tickets directly from the airline, especially for major international routes. To book this airpass, you'll need to contact a specialist tour operator - Journey Latin America (UK) is one such tour operator. You'll need to decide on dates and routes in advance, though these can be changed for a fee at any later stage.
Bogota is very well connected to most other capital cities in Latin America. In addition, Medellin and Cali have direct flights to both Panama City and to Equador. The most extensive network of flights to other destinations in Latin America is offered by Colombia's national airline, Avianca.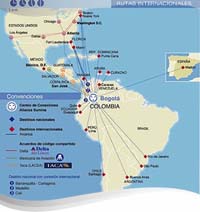 Avianca International Route Map
Aerorepublica also offers a range of international flights to/from Colombia - see the earlier section on Aerorepublica for their international route map.
As a rule of thumb, Avianca and Aerorepublica fly to most major travel hubs in Latin America. Other airlines are detailed below.
Colombia is well connected with numerous Central American countries with both Taca and Copa Airlines. For flights from Colombia to Ecuador, try Lan Ecuador or Aerolineas Galapagos (AeroGal), who have a useful Medellin to Quito / Guayaquil / Galapagos Islands service. Flights from Colombia to Lima (Peru) can be booked with Lan Peru. Flights to Bolivia are generally via Lima. Flights to Caracas are offered by Aeropostal, while Chile is served by Lan Chile. Aerolineas Argentinas offers a daily service from Buenos Aires to Bogota. From Bogota to Brazil, the route is served by Varig and Tam Airlines, though you will probably find it cheaper to fly to Panama and catch an onward flight to Manaus or Sao Paulo using the "All America Airpass" mentioned previously.
A common question people often ask is "which airlines fly to Colombia?" We hope that question has just been extensively answered.
---