Page last updated on 7 July 2012.
Old Providence Island (or Isla Providencia in the Spanish language) is one of the few remaining Caribbean islands that has yet to see mass tourism. There are approximately a dozen small hotels on the English speaking island, and various beaches that are beautifully unspoilt and largely devoid of both people and buildings.
Providencia is an empty, tropical, coconut palmed paradise, perfect for a relaxing few days beach vacation in Colombia. It's a stunning island of beautiful beaches that are, on the whole, totally undeveloped. Mass tourism has yet to hit Providencia and thankfully the locals are determined to keep the island this way. The native language of Providencia is Creole, which is a kind of twisted form of Caribbean English (so almost all the locals speak proper English). The culture is similar to that of nearby Jamaica, and very different from that of mainland Colombia. That means Rastas, reggae and a very laid back lifestyle - this is how all the Caribbean was 50 years ago, before most of the Caribbean region was spoilt by mega resorts and package tourism (neighbouring San Andres Island included). Providencia thankfully remains very unspoilt, and is a unique island to visit. Many people come to visit for a few days and end up staying weeks or even months, reluctant to leave this idyllic and peaceful paradise.
Providencia is also one of Colombia's best scuba diving destinations. The snorkelling is also wonderful, and the sea a multi-shaded turquoise almost everwhere one looks.
Activities & Tours
Most people travel to Providencia to either experience the beautiful palm fringed beaches or to go scuba diving. The worlds third largest barrier reef is found in Providencia. The snorkelling is great and the sea almost always very calm - most hotels can organize snorkelling tours, plus various other excursions and activities. It's highly recommended to visit Crab Caye (Cayo Cangrejo), a spectacularly beautiful little island off the East coast of Providencia. Another great activity is to go kayaking in the calm, crystal clear waters - this is the best way to experience McBean Lagoon National Park, of which Crab Caye is a part.
It's also well worthwhile to spend a day visiting neighbouring Santa Catalina Island, which has a couple of lovely peaceful beaches, two of which can only be accessed by kayak / private boat. On Santa Catalina one also finds a couple of old forts, remnants from the days of piracy on the island. Rumour has it that the pirate Henry Morgan hid huge amounts of treasure on Santa Catalina, and it's easy to visit the cave where some of it was found.
Hiking is another great activity in Providencia - one could happily spend a few days hiking and admiring the amazing views. Towering volcanic peaks covered by lush rainforest descending into peaceful mangrove swamps and lagoons, combined with small offshore Cayes, an amazing multi-coloured sea and a distant reef with crashing surf make the views from the hills of McBean Lagoon National Park particularly unforgettable. Most tourists hike to El Pico (3-4 hours return - spectacular views from the top), which is the highest point of the island. However, the hike (3 hours) around the National Park is far more scenic.
The sport fishing around Providencia is excellent (yet almost no-one fishes these waters). There's a variety of fishing options, including fly fishing for bonefish and tarpon and deep sea fishing for the likes of wahoo, dorado, kingfish, tuna and blue marlin. For fly fishing or deep sea fishing you'll probably need to bring your own rods. Otherwise it's possible do inshore artesanal fishing with hand lines as the locals do.
It's best to allow 7 nights to fully appreciate the range of activities and tours available on Colombia's Isla Providencia.
Scuba Diving in Providencia
There's various scuba dive operators on the island. Sonny Dive Shop is found in Freshwater Bay. Also in Freshwater (right on the beach) is the highly rated Felipe Diving. In South West Bay, Hotel Sirius specializes in scuba diving packages and have their own scuba dive centre called Sirius Dive Centre. In Old Town Bay, a 20 minute walk from the town centre, is Scuba Town (no website - tel 0057 8514 8481 or 0057 3173722738 or jerodive@ yahoo.com - ask for Master Scuba diver/instructor Jeronimo), who are PADI certified. All of these dive operators are very professional and I only hear good things about them all.
Flights to Providencia
The section on flights to Providencia has become so extensive that it now has it's own sub-page. See the page on flights to Providencia for comprehensive information and advice about how to get to this remote backwater (it's actually very easy to get here) by either plane or super fast catamaran from neighbouring San Andres Island.
Providencia Hotels
Almost all hotels in Providencia will try to sell you a package including all your meals - my advice is to avoid packages as many of the best restaurants are those not attached to the hotels. Responsible tourism etiquette advises that one should spread their tourist dollars out amongst many when visiting a small community, and Providencia is certainly a small community in need of responsible tourism. See my pdf file for some tips on where to eat.
There's about 20 hotels, posadas and guesthouses on the island of Providencia. Just about all of them have air conditioned rooms, but very few have hot water. The greatest concentration of hotels (and restaurants) are found in the "tourist zone" of Freshwater Bay (Bahia Aguadulce), though there are places to stay all over the island.
Hotels on islands are always more expensive than those on the mainland - and the same is true for Providencia. You have to pay a premium to visit paradise....
Independent Hotels
There are various independently owned / operated hotels on Isla Providencia. To book these independently owned hotels you'll need to either email or call them (they almost all speak English on this Colombian island). Some of these hotels don't have websites.
Deep Blue - with a dreamlike coastal location in front of Crab Caye and with views towards the National Park, this 12 room hotel recently re-opened following a complete renovation. The stylish boutique/luxury hotel is one of the most stunning hotels along Colombia's Caribbean coast. Doubles from approx USD $250 p/n.
Cabanas Aguadulce - There's about 20 spacious, clean, air conditioned rooms that are found in individual cabanas in Freshwater Bay. There's no sea view from the hotel itself, but there is one of the islands' finest swimming pools here. It's a few minutes stroll to the beach in Freshwater.
Hotel Sirius - an economically priced option that specializes in scuba diving packages and is located just back from the beautiful beach at South West Bay.
South West Bay Cabanas is another reasonably priced larger hotel located in South West Bay, about a 5 minute walk from the beach there.
Hotel Pirata del Morgan (tel 0057 8514 8067/ 8514 8232; morganhotel@ hotmail.com) is found above a tiny supermarket in Freshwater Bay, and has a small swimming pool and pleasant rooms (about 30 in total), some of which are overlooking the sea. Be sure to request a sea view room if booking.
Hotel El Encanto (tel 0057 8514 8295 or 8514 8082; cab-el-encanto@ hotmail.com; b.angel2008@ hotmail.com) is a brightly coloured hotel with pleasant, well furnished rooms (some have a sea view - so request one on the top floor) that are a short walk from the beach in Freshwater Bay.
Hostal Flaming Tree (tel: 0057 8 5148049), has simple but clean air conditioned rooms for just 45,000 Colombian pesos (US $22) per person, and is found v.close to the centre of town (ie. Santa Isabel) - travellers on a tight budget might consider staying here.
Old Providence Hotel, above Erika supermarket, also has similarly priced simple, clean, air conditioned rooms right in the centre of town.
Sol Caribe is a Colombian chain hotel with a division in Providencia. There's about 30 rooms in total at the Sol Caribe in Providencia. It's expensive at $200+ for a double. One of the few places with hot water.
Posadas Nativas aka. Guesthouses
Posadas Nativas often offer the best value for money when it comes to visiting Providencia. Posadas are always much smaller than hotels, and may or may not include breakfast. Posadas in Providencia vary in style and standard, I'll mention a few of my personal favourites.
Posada Betito's Place (email: betitobritton @ hotmail. com ; tel: (0057) 3144715574) - this is Providencia's newest (2011 renovated) Posada Nativa and it's also one of the finest. The owner Betito is a real character, and the posada's decor, much of which he has collected from local shipwrecks, reflects the fact. Five rooms are clean and comfortable and the sea views towards Crab Caye are spectacular. The price of 80,000 pesos per person is very reasonable considering that return trips to Crab Caye are included in that price (Betito has a smart modern boat). Breakfast costs a little extra. A great place to experience island life!
Posada Nativa Sunshine Paradise (tel: 0057 8 5149031 or 0057 3112270333; email: franciscarobinson @ yahoo.com). When I need a hotel in Providencia, this is where I often choose to stay. This lovely little posada is found on Santa Catalina Island and has a beautiful setting overlooking Providencia Island. The super clean, modern, air-conditioned rooms are of good quality, the posada has a lovely location and the price of 60,000 pesos (US $30) per person is very reasonable. Recommended - this posada is a good choice for those seeking tranquility.
Posada CocoBay is beautifully located and found on the East side of the island at Maracaibo Bay. Cocobay has a lovely seaside setting looking towards Cayo Cangrejo (Crab Caye) and the multiple shades of turquoise waters that surround it. The 3 room family run hotel Posada Cocobay has simple but spacious rooms (nothing fancy) and costs about 100,000 pesos (US $50) per person. To book Posada CocoBay you'll need to call - (0057) 311 804 0373 or (0057) 8 5148903, ask for Atanasio.
There are many other posadas in Providencia - there's really not enough space to mention them all on this limited Colombia travel guide. A lot of the posadas are best booked on arrival as many of the local people don't really do email reservations. I'll briefly mention a couple of such ones - Miss Lupe is found almost on the beach in South West Bay, Miss Orfe, Mr Mac and Cabanas Sonny (contact Sonny Dive Shop) are all found in the "tourist centre" of Freshwater Bay, Miss Enilda is a 15 minute walk from the blissful Machineel Beach, and you can see official website Posadas Turisticas de Colombia for plenty of more information about other places to stay.
Decameron Hotels
The all inclusive Colombian hotel chain Decameron has affiliated itself with 5 hotels on the island of Providencia. These Decameron affiliated hotels remain independently owned, but bookings are handled by Decameron offices in Bogota or San Andres. Note that it is only possible to book packages including flights from San Andres (or the Colombian mainland) with Decameron. It is not possible to book just the hotels.
Miss Mary - this small posada has a lovely setting on the beach in South West Bay. Ensure you request a beach view room.
Posada del Mar has about 20 fine rooms, all of which have balconies and sea view rooms in Freshwater Bay.
El Recreo has various simple but comfortable cabanas on or close to the beach in Freshwater Bay.
Cabanas Relax has about 8 rooms. While it has no sea view, it does have the advantage of a swimming pool. Relax usually costs slightly less than the other Decameron affiliated hotels in Providencia.
In 2010, Decameron launched a new website whereby packages at these hotels can be booked online - see Decameron.co.
Alternative Accommodations - Renting / Self Catering, or Camping?
Rather than staying in a hotel in Providencia, you might prefer to rent a house/cottage. There's a handful of options - you'll find some simple self catering places in Freshwater Bay (Aguadulce) for example. Alternatively, try emailing Clemencia, who owns the excellent Il Postino restaurant (sancle8@gmail.com; tel: 0057 3153898862; English, French, Italian and Spanish spoken). She has 3 small neighbouring sea view cottages (double bed + extra bed in each cottage - please don't bother emailing her if you're a large group) in San Felipe that she rents to tourists. Prices are from 150,000 pesos (US $75) per night. She also helps her neighbour Mac rent out his beautiful cottage, which has a really cosy almost Mediterranean feel to it - great option at 200,000 pesos per night and the sea views are particularly lovely (see photos). San Felipe is about a 10 minute walk from the "tourist centre" of Freshwater Bay.
There are other simple self catering options all over the island, but these are best sorted out upon arrival.
Camping is rarely undertaken in Providencia and there is no campsite on the island. There are, however, a couple of great places where you can pitch a tent on/next to a beach. On rustic, unspoilt Almond Beach, Alfonso has a simple new (April 2012) bar with shower, toilets etc. and is happy for campers to pitch a tent by the beach. Next door, the super friendly guy called Delmar has a simple restaurant where you can eat. Its all simple stuff but an idyllic place to camp. An alternative camping spot on Providencia Island is Richards Place (a rustic bar run by a rasta named Richard) on South West Bay - its a less remote choice than Almond Bay.
Photos of Providencia Hotels: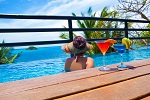 Deep Blue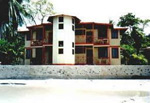 Traditional Raizal Posada, Providencia, Colombia.




Miss Mary Hotel.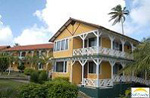 Sol Caribe Hotel, Providencia, Colombia.
Restaurants
On PaisaTours.com I don't normally offer advice about restaurants, but as I spend so much time in Providencia I will do so in this case. See the pdf file for some advice.
How to Book an Independent Trip to Providencia
This section is not relevant if you prefer to stay at a Decameron affiliated hotel, as Decameron only book packages including flights.
1. See the Aires, Avianca or Aerorepublica websites for details and prices for flights from Colombia's mainland (or Panama) to San Andres Island. You can pay online with a foreign credit card with no problems now (previously you couldn't). All these airlines have English speaking reservation staff if you prefer to call (no need though - Avianca and Aerorepublica websites are in English now). Alternatively, you can book flights to San Andres on websites such as www.Travelocity.com - this may well be the simplest option for many, and often the price is very similar to booking direct. I find that a return flight from the mainland of Colombia to San Andres normally costs between 500,000 and 700,000 pesos (US $250 - $350) - if you're flexible with your dates it helps reduce the price, likewise if you book well in advance - remember that this is a 2 hour flight from most places - hence the price. You are, after all, flying to the middle of the Caribbean!
2. Book your onward flight from San Andres to Providencia online with Satena. Alternatively, call Decameron (see the Providencia flights section for details) and book one of their charter flights. Otherwise, you might prefer the catamaran. Unless you have your own yacht, Providencia is only accessible if you travel to San Andres Island first.
Note re flights to Providencia - it's actually very simple to book these locally, a few days before you plan to travel. When you arrive in Colombia, head for a Satena office (Satena is the government owned airline, and they have offices absolutely everywhere - in every city, in almost every airport and in almost every major shopping centre in the larger cities there is a Satena Office). You can pay on the spot with a credit card easily. Even in the high season (Christmas to mid January, Easter week and mid June to mid July) there's almost always space - in the low season it's a real rarity that the flights are full. And if the ideal flight is full, just book the subsequent one - you'll get here! For more info about flights to Providencia, see the comprehensive section flights to Providencia.
3. Decide which hotel you want to stay in and call or email them - they all speak English as Providencia's first language is English. They normally will ask you to make a deposit into their bank account to confirm the reservation, or they might ask for credit card details.
For more Information
See the Map of Providencia I designed (see the Google satellite version). See also the tourist information pdf file that is designed to supplement the information above (it's a printable file designed for tourists to print and bring with them to optimize their stay and plan their days on Providencia Island). For more info if anything isn't covered here, contact the Providencia Tourist Office on 0057 8514 8054.
Finally
For an idea of what Providencia is really like, see the excellent, professionally done short video by Scott Sporleder. Finally, see also the page on volunteer work in Providencia, Colombia.
This website offers information, opinions and advice on behalf of British company CH Travel Ltd. If you have any extra input, advice, suggestions, complaints, feedback or otherwise, we are very, very happy to listen to it - do contact us. It is easy to contact us - all you do is send an email.
---