San Andres is a beautiful Caribbean Island some 90 minutes flight from the mainland of Colombia. The culture is a mix between English Caribbean and Spanish Colombian. There are beautiful palm fringed beaches and turquoise seas - the sea of San Andres is fondly known as "the sea of seven shades of Turquoise" by Colombians. The island is a very popular destination for mainly Colombian tourists, and has a resorty feel to it.
To really get away from other tourists, you can find a small piece of unspoilt Caribbean paradise at the nearby island of Providencia, which is a short onward flight or catamaran ride from San Andres. My personal advice would be to spend most time on Providencia Island, which is a very special place to visit.
San Andres Island & It's Beaches
San Andres has some very beautiful beaches, and the sea is an amazing shade of turquoise. The North of the island has some lovely beaches, but all are heavily developed and backed by buildings. The North of the island is the busy section where most hotels are found, as well as various restaurants and other forms of nightlife.
Most beaches are on the East coast - many have been semi-taken over by beachfront resorts which are scattered along this coastline. Without doubt, the best beach on the island is found at Sound Bay - beautiful sea, beautiful sand and one of the least crowded beaches (the Restaurant "Donde Francesca" is found here - great food, great location - I choose to spend most of my time in San Andres there!).
The West coast of the island has no beaches at all - it's all rocky here, though very scenic.
Tours & Activities
Lazing on the beaches is the top activity in San Andres, though there is also scope for various forms of watersports. Renting a golf buggy is a great way to explore the island - we haggled down to a price of 65k Colombian pesos per day.
Everyone who visits San Andres invariably goes to nearby Johnny Cay one day (see photo on the right). Jonny Caye is a beautiful little island surrounded by beach about 1 km offshore. Because everyone visits, it can get a little crowded - especially at mid day when all the organized tours arrive. Before 11am and after 3pm, Jonny Caye is far less crowded, so consider chartering your own boat to drop you off and pick you up to avoid those crowds - prices aren't that much more than the organized tours.
Another popular tour is the visit the "Aquario" (or Aquarium). This involves hundreds of tourists being squeezed onto a tiny island (about 5 metres by 20 metres) to feel like sardines. The idea of the tour is to go snorkelling, but there are few fish, and it's a complete waste of time.
A far better tour to take is known as the "Mantaray tour" - a tour that goes to the "Aquario" at about 4pm when the crowds are gone, and the stingrays have appeared. It's an amazing experience to swim and snorkel amongst dozens of stingrays - this tour is definately recommended.
San Andres Hotels & Resorts
The North of the island is heavily developed and with the majority of the hotels, but as one travels South it becomes progressively less developed and more peaceful. The island is scattered with a range of hotels to suit all budgets. If you seek nightlife and lots of nearby restaurants, stay in the North of the island. For a more peaceful vacation in Colombia, stay further South. To be honest, a lot of places to stay are rather bland, boring and lacking in both style and character - thankfully there are plenty of exceptions so choose where to stay wisely! Many of the larger hotels seem yo have a policy of charging higher rates to foreigners - pretend you are Colombian and you may get a bwtter rate.
Recommended Hotels - All Budgets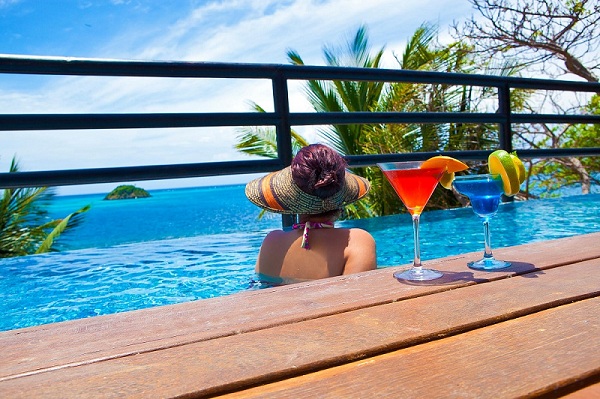 Deep Blue, a luxury hotel and probably the the best hotel in the San Andres Islands
Deep Blue - Conde Naste recommended luxury hotel in Maracaibo (Providencia Island) with spectacular sea views, a seaside restaurant and a stunning terrace with infinity edged pool.
San Luis Village Hotel (priced mid range to expensive) - located right in front of San Andres' prettiest beach (Sound Bay), and is a relaxing place to stay. Brand new, it only opened in May 2009. Looks great and the prices aren't unreasonable either.
Tres Casitas (mid range price) - I only recently (August 2009) visited this hotel, but believe it to be the best mid range hotel in San Andres. Tres Casitas is found on the coast with a lovely spacious decking area and swimming pool overlooking the sea. The rooms are spacious with a kitchen but only average in terms of decor and style. The hotel is in the town centre, and next door to Los Delfines, which is one of San Andres' most expensive hotels. What's appealing about this hotel is the location combined with the decent price of 80,000 Colombian pesos (US $35) per person. If booking Tres Casitas, make sure you request a sea view room - sea views rooms don't cost any extra, the rooms are the most recently decorated, plus they have great views. Unfortunately, this hotel never replies to (my) emails, and seems to never answer the phone, so making a reservation is almost impossible!
Casa Harb (expensive) - a small, boutique hotel a little away from the centre in La Rocosa. This is the island's most expensive (and exclusive) hotel at about US $400 per double room. Furnishings and the design of the hotel are beautiful, however there are no sea views.
Sunset Hotel (mid range price) - a 16 room hotel with an on-site dive shop found at the quieter Southern end of San Andres Island.
Posada Nativa Cli's Place (budget) - this is a small hotel found in the centre of town owned by the friendly Cleotilde Henry. The pleasant air-con rooms are clean and perfectly suitable for budget travellers, costing 45,000 Colombian pesos (US $20) per person. Call (0057) 8 572 0591 or (0057) 3144908850. Next door is another little "posada nativa" owned by Cli's brother.
Mary May Inn (budget) - describes itself as the "best little hotel in town", and it's hard to argue with that statement. Air conditioned rooms are very reasonably priced at 60,000 Colombian pesos (US $30) for a couple. The place always seems to be full so try to book in advance - (0057) 8 5125669 or (0057) 8 512 7654 or email jfgallardo@gmail.com. Cli's place (see above) is just round the corner, along with the good value (and perfectly reasonable) Hotel Mar Verde - so if you're a backpacker who can't be bothered to book anything in advance, this area is a good place to turn up at to see what's available whilst lugging your rucksack around.
Hotel Casablanca (mid range to expensive) - a small "four star" hotel, and one of the longest established on the island of San Andres. It's in the North of the island -ie. the busy, more happening part. It's highly rated by many. When I stayed, the hotel was overbooked upon my arrival, so we were put in a shabby apartment around the corner - not very impressed. Take note that prices are very different depending upon whether you're a foreigner or not - much cheaper if you're a Colombian tourist (or if you get a Colombian person to book on your behalf). If you want a good hotel in the centre of town, this is one of the best options.
Blue Almond Hostel - a newly opened travellers hostel in San Andres, a ten minute walk from the town centre. Looks good, and reasonably priced.
You might also consider renting an apartment - consider Hansa Bay 505 (Spanish only website).
Other Hotels in San Andres
Decameron - have a range (maybe 6 in total) of all-inclusive resorts. The standards are rather variable. If I had to pick one to stay in it would be Los Delfines, which is much smaller than the other big resorts.
Hotel Cocoplum - "where the beach has it's own hotel", this is a good beachfront option that is out of the the town in the San Luis area on the East coast. It's a lovely location. Overall - tempting...
Sunrise Hotel - a larger beachfront hotel with some fantastic views of the Caribbean.
Lord Pierre Hotel - a 48 room, "four star" beachfront hotel with swimming pool.
Tiuna Hotel - good value for a beachfront hotel, but nothing particularly fancy.
Bahia Sardina - a beachfront hotel, but rather boring looking and bog standard.
Noble House Hotel - good value small hotel, friendly service but it's not in front of a beach, but rather in the centre of town.
Portobello Hotel - a cheap and cheerful option - don't expect anything fancy from this 31 bed hotel located on one of the island's best beaches (though it's a busy location).
Katty's Paradise - a bargain value friendly guesthouse / hostel. Good option for backpackers or those on a tight budget.
When to Visit
During the peak tourism season, San Andres can get very crowded with Colombian tourists, and hotel prices will increase - best to avoid this period (mid December to January, Easter week and June and July). Mid June to Mid July are especially busy with adolescent schoolchildren who descend on the island on school trips. Avoid this time especially.
Flights & Getting There
There are various direct flights from mainland Colombia to San Andres - Aerorepublica have flights to San Andres from Bogota, Medellin, Cali, Cartagena and Barranquilla (from Cartagena and Barranquilla it's not a daily service though - about every other day there's a direct flight). The airlines Avianca, Aires and Satena also have flights from Bogota to San Andres. Avianca also has flights to/from Cartagena (on Thursdays, Saturdays and Sundays at the moment). Aerorepublica is normally best value, though sometimes Aires have some great value tickets, though their schedules mean that arrival is very late at night. The average cost of a return flight to San Andres from Colombia's mainland is about 650,000 pesos (US $220). You might want to consider using an Avianca airpass to fly to San Andres - this is often a good value way of getting there. See the domestic flights routings section for more information.
Air Transit has weekly charter flights from Montreal (Canada) to San Andres Island. Air Transit's week long all inclusive packages cost only a little more than the flight only tickets - both are good value, though you'll end up in one of the rather tasteless Decameron all inclusive resorts.
There are also regular flights available to/from Panama City with Copa Airlines (plus connections to Costa Rica, Ecuador, Peru and various other central American countries). You could also try Tame (from Ecuador).
Czech Airlines apparently has charter flights to San Andres from Prague (this is a very new service) - only during Europe's winter though (so I was told when asking in San Andres' airport in March 2010).
If your flight arrives in San Andres before 2pm, it's easy to catch one of the afternoon flights onwards to the paradisical island of Providencia.
Booking flights to San Andres is simple - any vaguely serious travel agency (anywhere in the world) can book such Aerorepublica or Avianca flights in a few minutes. Alternatively, you could book online at well known flights websites such as travelocity.com (US) or lastminute.com (Europe).
---